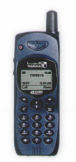 Thuraya's handheld mobile phone is a powerful communication tool. The Satellite/GSM integration ensures that you can enjoy smooth and seamless service.

If you are in Thuraya's coverage you can call to, and receive a call from, anywhere in the world. If you are outside the coverage area, you can use Thuraya on GSM mode in networks of compatible standards.

The Thuraya phone's sleek styling makes it convenient to carry anywhere. It is compact, lightweight and easy to use. Thuraya phone accessories give it added versitility for indoor, car and boat use.

Roam with Thuraya. Your Thuraya satellite/GSM phone will open the world to you.